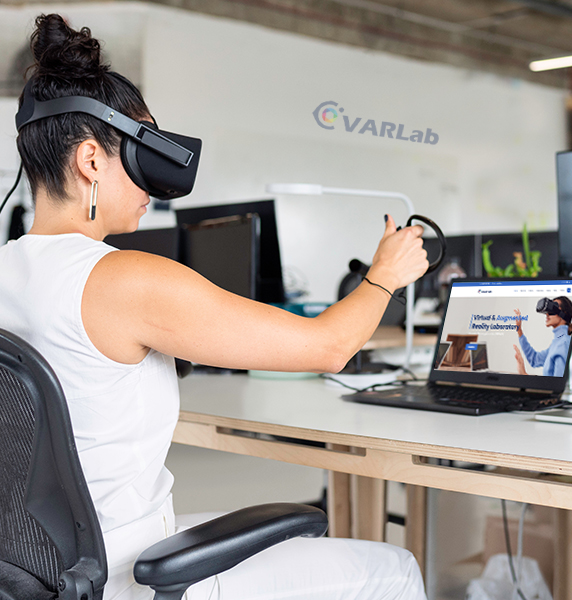 Research on the virtual representation of objects, modelling materials and developing techniques for simulation of their degradation due to time and usage.

Research on how to accurately register virtual objects within the real environment for developing AR applications.

Research on techniques for dynamic feedback through sensors and actuators for enabling real-time reactions according to physical laws, with respect to user motion and interaction between users and the virtual world.

Simulated physical human-machine interaction techniques, based on recognition of gestures, objects and activity.

New techniques for overlaying virtual objects into real scenes without prior knowledge of user's environment, e.g. QR codes, but using machine learning-based object recognition methods in real time (marker-less AR).

Research and development of new gamification techniques in VR/AR environment for providing immersive interfaces to users for undertaking complex tasks.

Software optimisation techniques for low energy computing devices (e.g. AR glasses), for optimal execution of AR applications.

High accurate human presence analysis, through advanced 2D/3D signal processing techniques, for AR/VR applications, but also for the simulation of buildings and general infrastructures.

Advanced algorithms for photo-realistic 3D reconstruction of the environment or specific objects in the environment, for real-time applications.

Methods and techniques for multi-user interaction in collaborative AR/VR environments either remotely or in the same physical space.

Methods and algorithms for automatic analysis, and characterisation of building or other infrastructure (e.g. solar panels), based on muti-sensorial data (e.g. thermal sensors, high-resolution RGB sensors) and techniques for real-time overlay of metadata in AR applications and VR tools. Applications areas of this research priority include education, cultural heritage, safety and security, healthcare, factories of the future, among others.